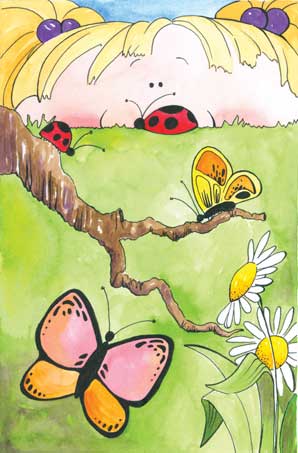 "Mommy, Mommy, it hurts," Sarah cried as she came running around the house. Tears were streaming down her cheeks as I lifted her into my arms. She kept reaching for her foot and as I looked down there it was, a wasp firmly attached. I let out a scream and tried to get it off, it wouldn't budge. I was finally able to scrape the wasp off with some paper and calm both Sarah and myself down. It was over and it was traumatic.
With some loving care and the passing of a few days, the physical wound was gone. However, anytime Sarah saw any bug she was terrified. At daycare Sarah did not want to even go outside fearful that a small fly might zoom by. Was Sarah to go through life with a fear of bugs? Would her child fear turn into adult fear or stress? Would she need therapy when she was older? These were all good questions.
I am a firm believer in positive parenting and raising kids always gives many opportunities to do just that. I searched for parenting tips, parent support, my notes from parenting classes and other child rearing resources that I knew were good at helping parents. I did not find any real good answers or answers I liked.
Luckily at this time I had been experimenting with what I now call Pillow Talks, It had been working with other child rearing issues so I decided to give it a try. That night, using loving words of encouragement, I had a Pillow Talk with Sarah.
The next day Sarah came running to me and said, "Come here Mom, I want to show you something." As I went with her she said with enthusiasm, "Look Mom, a bug! Let's watch what it does!". "Okay!" I said. Sarah has respected bugs every since.
It has been many years since this incident with the wasp, and Sarah still does not have a fear of bugs or fear of insects. Pillow Talk has been a gift to our family. It is my number one positive parenting technique. Pillow Talk has allowed me to give parent support and parenting classes and make a difference to our children and generations to come.
Thanks for your interest and support.
Nurse Nancy Beck
PS: For more Pillow Talk solutions Click Here!